Campaign Design and Execution
Using the most powerful CRM and marketing automation tools and platforms in the industry, we craft workflow-driven marketing campaigns that create high-opportunity audiences for loyalty and conquest marketing and communications supporting a customer's brand journey.

Our Foundation: Understanding Your Data

Your client's data profile holds thousands of data points; their product interest, purchasing patterns, service or repair history, engagement with your brand online and in the brick-and-mortar world. Understanding all of the data you have available is critical to crafting compelling and effective campaigns. The Raare Team works with your business and agency partners to visualize not only what is available, but what is possible.

Our Roadmap: Conceiving The Journey
The Raare Team then brings their experience in consumer data repositories to the team(s) responsible for conceiving and defining your customer's journey. Together we collaborate to build an effective consumer engagement program. When your platform supports AI-based technologies such as IBM Watson, your targets will be even more sophisticated and offers more productive.
Our Execution: Push Your Marketing Platform To Perform

Our analysts have extensive knowledge of marketing campaign design across multiple enterprise platforms, including those from IBM (including Unica and IBM Campaign), SAP, Adobe Marketing Cloud, Salesforce, Aprimo, Marketo and others. Paired with their extensive experience in the automotive, financial and retail sectors, they build efficient ad-hoc and scheduled campaigns across multiple channels, targeting the right audience at the right time with the right call to action or offer. Using sophisticated workflows that create segmented and personalized consumer collections, then applying only legally-required suppressions but best practices in effective consumer communications, the team will build highly defined audience collections that can then be delivered, based on your platform, in real-time or through established and secure file exchanges.
Our Measurement: Evaluating the Program

After your campaigns it is critical to measure how they performed and use that knowledge to refine and renew your marketing and CRM strategy. We have experience in reporting and visualization tools such as SAP Business Objects and Tableau and understand how to design programs and campaign data that make comparison of multiple programs logical and measurable.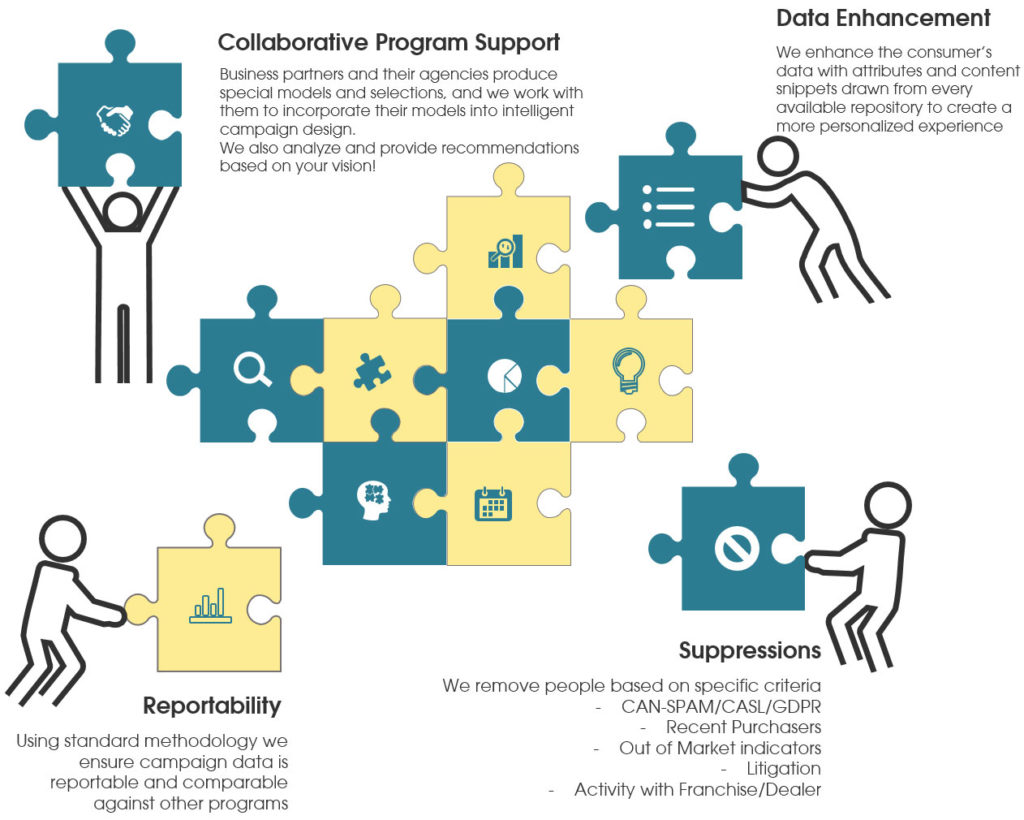 …efficient ad-hoc and scheduled campaigns across multiple channels, targeting the right audience at the right time with the right call to action or offer…